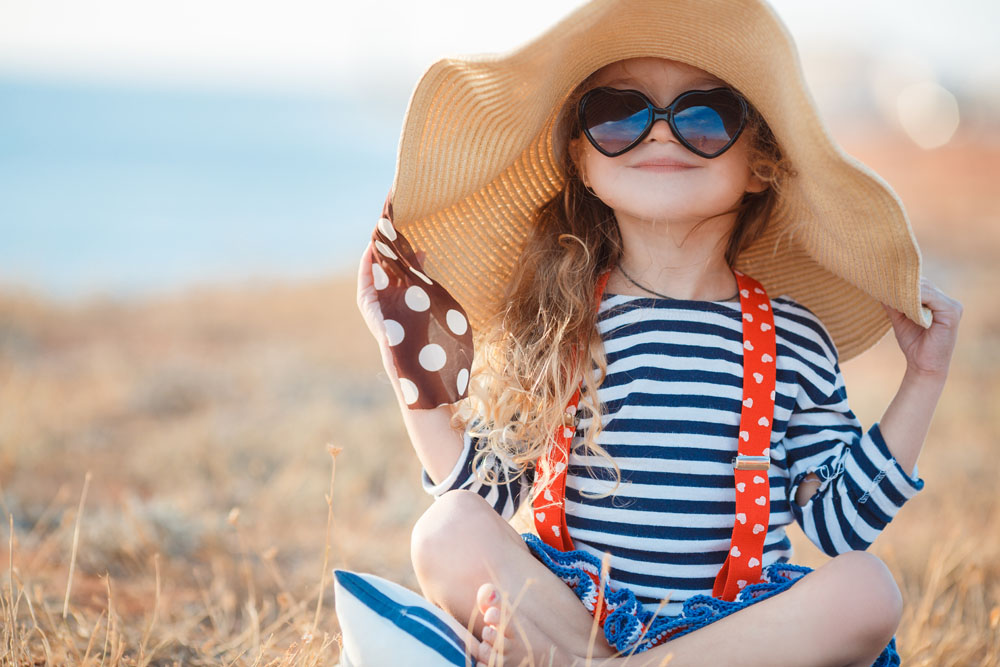 According to Ayurveda, the eyes are the seat of Alochaka Pitta, one of the five sub-doshas of Pitta. Pitta governs heat, metabolism and transformation. Whenever our eyes are open, they are involved in the complex process of transforming light into ideas: distilling foreground from background, recognizing objects presented in a wide range of orientations, and accurately interpreting spatial cues. Researchers estimate that the human retina can transmit visual input at about the same rate as an Ethernet connection, at roughly 10 million bits per second.
Given the Pitta nature of our eyes, it follows that they can become sensitive and irritated when we are exposed to excess heat. Regardless of whether or not you have a predominance of Pitta in your constitution, everyone should take extra caution in protecting their eyes during the summer months.
Tips For Protecting Your Eyes in the Summer
Wear sunglasses and a hat during the day. Bright light can actually cause an inflammatory response in the eyes which can lead to damage of the optic nerve. Sunglasses will also help protect the eyes from the dust and other environmental particles that increase in the summer months. Look for a label that says 99-100 percent UV absorption or UV 400 (which means they block all UVA and UVB rays).
Cool compresses can help draw out Pitta from the eyes. There is a reason for the traditional spa image of a lady relaxing with slices of cucumbers over her eyes. Cucumbers not only have high water content, they also have an anti-inflammatory effect. Cotton balls with sprayed with rose water or chamomile water can also be used as compresses to reduce heat in the eyes.
Air conditioning, dry winds and dust can cause eye dryness or irritation. If your eyes are feeling dry, see an Ayurvedic expert regarding lubrication for the eyes, and drink lots of room temperature water and fluids.
Getting a good night's sleep will help refresh and rejuvenate the eyes. Your eyes are very busy during the day and need a good night's sleep to stay healthy. Additionally, a lack of sleep tends to increase the retention of blood and fluid around the eyes, leading to dark circles under the eyes.
Follow a Pitta-reducing diet. During the Pitta season, everyone should avoid Pitta aggravating foods, even if Pitta is not your main dosha. Increase your intake of vegetables and fruits. Cucumbers, cilantro, dill, fennel are all are very cooling. Rice, especially white basmati rice, and barley are ideal grains for summer. Emphasize foods that are liquid rather than dry, and cool or lukewarm rather than hot.
Avoid triggers that increase Pitta. Stress, anger, anxiety, alcohol, spicy food, pollution will all increase your risk for eye irritation. Regular meditation can help keep you chill and relaxed.
If you spend long hours in front of a computer, your eyes can become strained. Be sure to look away from the computer every thirty minutes or so. If you possible, take time to stretch and look out a window. Switching focus from near to far allows the ciliary muscles in the eye to relax. The ability of our eyes to change shape to allow for near-focus or far-focus is high when we are young and decreases with age. Doing focused work for hours on end can increase eye strain and decrease our overall ability to change focus.
Netra Tarpana
Netra Tarpana is a special Ayurveda treatment that strengthens and protects the eyes against the sun's rays, relieves tired, achy eyes, and improves vision. This treatment is known to be very rejuvenating for the eyes and is an ancient remedy for many eye and sight ailments.
In this treatment, freshly made dough rings are placed around the eyes and gently filled with healing herbalized oils to bathe and lubricate the eyes and surrounding area. As a side benefit, Netra Tarpana also helps address sagging around the eyes and crows feet.
Ayurveda Consultations
Burning, red, or bloodshot eyes, extreme sensitivity to light, and a yellowish tinge in the whites of the eyes are all signs of excess Pitta circulating in the system. If you have any of these symptoms, it is best to consult with an Ayurvedic expert or your family physician.