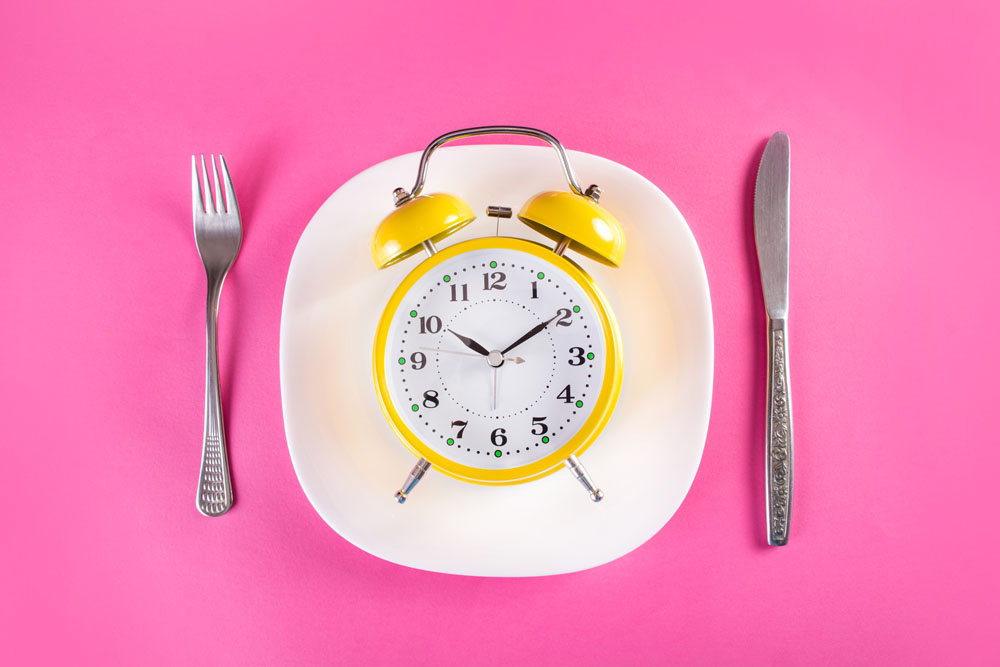 The holiday season is over and so is the parade of celebrations and get-togethers with their enticing treats. How many New Year's Resolutions lists have "Weight loss" (or "Improve diet" or "Cut out sugar and carbs") near the top? Luckily for the diet-inclined, the ancient science of Ayurveda offers some simple tips that can help you lose weight easily and effortlessly.
Foundational to Ayurveda is the understanding of which dosha predominates at different times of the day and night, (and season and time of life) and how to structure activity so that these influences work for us instead of against us. Apparently modern science is catching up. There is now a whole "new" approach to dieting called "chrono-nutrition". Basically, the thinking is that controlling eating patterns can have profound effects on weight loss. The new tips from chrono-nutrition seem oddly familiar to anyone with any knowledge of Ayurveda.
Tip 1: Eat Less at Night
According to the experts on chrono-nutrition, the energy our body uses to process the food we consume is 50 percent lower during the evening meal. It turns out that about 10 percent of the energy we use every day is directed toward digesting and processing the food we eat. If we eat large amounts of food at night, we use significantly less energy than if we eat the exact same food earlier in the day.
A recent study comparing two groups — both consuming 1400 calories a day — found eating most calories for breakfast rather than at dinner produced greater weight loss and waist circumference reduction.
(In addition, a large carbohydrate load in the evening has been found to create some insulin resistance, which in turn may affect melatonin and cortisol  – and therefore sleep.)
In Ayurvedic terms, Pitta dosha is responsible for transformation, metabolism and digestion. Pitta is at is peak from the hours of 10:00 a.m. to 2 p.m. These are the hours when the most energy is available to transform the food we eat into a form that can be absorbed and utilized by our body. At night, Kapha predominates from 6:00 PM until 10:00 PM. Kapha is slow and heavy and it makes sense that we would be burning less energy while under this influence.
The proper use of the influence of the Kapha time of the day is to prepare us for bed. A light meal at night is recommended so that the body is not working on digestion while it is sleeping. This allows for the ideal use of Pitta dosha at night: to perform self-repair work while we are sleeping so that we can wake up refreshed and renewed.
Tip 2: Maintain a Steady Routine
While chrono-nutritionists admit they do not fully understand the mechanism, they found that maintaining a steady routine also helps with weight loss, even if what you are eating remains exactly the same. They theorize that when your body becomes accustomed to a schedule, your metabolism and hormones work better and digest your food more efficiently at meal times.
According to Ayurveda, maintaining a good routine is a key tool for keeping Vata dosha under control. Vata dosha governs movement throughout the body. It is the first dosha to go out of balance and can wreak havoc with the other doshas. When out of balance, Vata can compromise digestion, much as a strong wind can put out a small fire. Once again (as when we eat late at night) we are left with less energy with which to metabolize our food. When we stop being able to pull the needed nutrients out of our food, a message is sent to our brain that we are starving. This can trigger all kinds of food cravings. These food cravings are often for Kapha-type foods. This is because body automatically seeks balance. Because Kapha has the opposite qualities of Vata, it is natural to want to eat heavier foods to balance the growing instability of Vata.
Tip 3: Go To Bed On Time
The chrono-nutritionists have found that early sleepers have a 25 per cent better response in diets, both psychological and physiological reasons. Again, their understanding of the mechanics behind this fact is limited. They note that studies have found time and again that when we are tired we over-eat and have less control over what we consume. They offer the simple explanation that if you sleep well; you are likely to make better dietary choices the day after, which will result in a more balanced diet. Studies have also shown that if your sleep is disrupted or erratic, the production of cortisol is affected, which in turn affects many bodily functions such as metabolism and the regulation of the immune system.
Ayurveda offers a sophisticated understanding of how living in tune with the laws of nature that structure the world around us results in a healthier, more efficient mind-body system.
Staying on a steady routine, going to bed at 10:00 and getting up, rested and alert, around 6:00 is a way to make sure that you are getting maximum support from all three doshas, Vata, Pitta and Kapha. Our body is filled with biological clocks, not just in our brain but also in our in our organs, our joints and our muscles. When we are in tune with these clocks, the body automatically repairs itself at night, allowing us to wake up in the morning refreshed and energized, all systems go. If we have not eaten a heavy meal late in the evening and if we head to bed on time our evening Pitta will be put to work regenerating our muscles, joints, and cells. Our brain will have been cleared of waste products. The 10-hour fast will have reset our metabolic system. If we prime the system with a light but healthy breakfast (cooked apples, oatmeal) we are in balance and set for the day.
Tip 4: Pay Attention When You Eat
According to the chono-nutrition experts, "If you don't give yourself enough time to eat, you cannot feel enough satisfaction." Studies have shown that 21 minutes is the optimal time needed for satiety signals to reach your brain. Eating with one's full attention on your food is proving to be essential for weight management, and several studies have shown that this approach results in greater satiety, improved food experience and better hormonal response.
The Raj Ayurveda Health Spa has always recommends guests practice Self Referral Eating. This means being aware of what you are doing during each meal. This involves sitting down to eat and putting your full attention on your meal (as opposed to watching TV, doing work or reading while you eat.) Chewing your food well is a part of this process: healthy digestion and nutrient absorption begin with proper chewing, which triggers the release of digestive enzymes.
Ayurveda recommends that you remain at the table for at least 10 minutes after you are finished eating, to allow your digestive process a chance to fully kick in. If you allow the act of eating to support your digestion, you'll find more satisfaction with set meals, fewer urges to snack, and a more efficient digestive system that tends to quickly burn up what you have taken in.
The Wisdom of Ayurveda
Because of its ancient heritage, it is easy to miss the sophistication of the Ayurvedic approach to health and wholeness. And while staying on a good routine, going to bed on time, eating according to the strength of Pitta dosha, and putting our full attention on what we eat may sound basic and run of the mill, these suggestions are grounded in a deep understanding of how our body works. Forget the new fads: put "going back to basics" on your list of New Year Resolutions and discover how quickly your physiology responds to living in tune with nature's cycles.