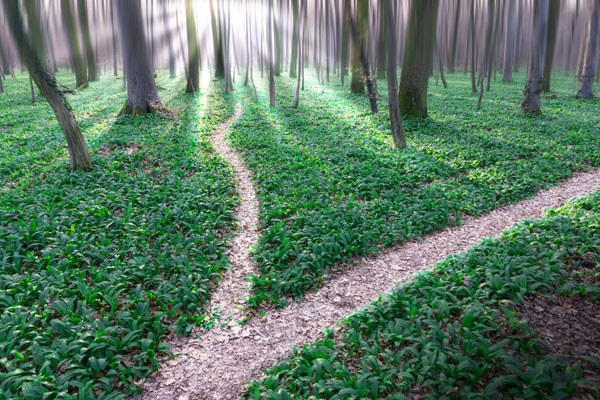 The most important contributions that you can make to creating good health are in your everyday choices. Every day we have a choice in our diet and our routine. These choices ultimately create our body, our mind, and our consciousness. The more we understand why these choices matter, the more likely we are to choose a lifestyle that supports our continued health and happiness.
24 Hour Cycle
Making health-promoting choices gets easier when you understand certain basic Ayurvedic concepts. Foundational to following an ideal daily routine is understanding which dosha predominates at the different hours of the day. (If you are not familiar with the concept of Doshas, please read our blog, Understanding the Doshas.) There are two major cycles per day, in the morning and in the evening:
From 6:00 to 10:00, both morning and evening, Kapha predominates
From 10:00 to 2:00, both morning and evening, Pitta predominates
From 2:00 to 6:00, both morning and evening, Vata predominates.
Ideal Times for Sleeping
There is a saying, "The day starts the night before". Only by going to bed early can the next day's activity be fully supported. By going to bed during Kapha time, (before 10:00 P.M., which is when the evening Pitta period begins), we take advantage of the natural cycle of healing and rejuvenation. The qualities of Kapha, (heaviness and dullness), allow us to get to sleep most quickly, and to have the deepest, least interrupted sleep.
The Pitta that begins to dominate after 10:00 PM is meant to be directed towards metabolic cleansing. The body needs to be inactive at this time so that it can focus its intelligence and energy on restoring and rejuvenating the body. If we are up and active during this time, we may enjoy an effective spurt of energy, but we cheat our bodies out of much needed self-repair. Over time this can take a serious toll on our physical and mental health.
Going to bed on time allows us to easily rise at the proper time, around 6:00 A.M. The period before 6 AM is the time when all of Nature is waking up, and a time when Vata is enlivened in the environment. If we start our day in Vata time, our mind will experience more of the qualities of balanced Vata throughout the day: increased energy, clarity, intelligence and alertness.
If we sleep past 6 AM, we sleep into the Kapha time of the day. When a person sleeps until 7:30 AM they have been lying dull and dormant for one and a half hours in Kapha time and they wake up experiencing the qualities of Kapha: dullness, heaviness and lethargy.
Understanding and following the ideal times for eating and sleeping means harmonizing our behavior with the rhythms and cycles of the body and the cycles of nature. This is the key to living a health-promoting life. If we live a lifestyle that disrupts our natural biological rhythms, we are sabotaging our own health, breaking down the resistance of the body and contributing to the creation of disease.
Ideal Times for Eating
Breakfast
Digestion is not strong when we first awake, so breakfast should not be a heavy meal. Cooked apples and pears are a perfect way to begin the day. It is best to avoid cheeses, meats and other heavy, hard-to digest foods at breakfast.
Lunch
In the middle of the day the transformational element in nature is at its peak. This activates that same principle, Pitta, in our own bodies. Pitta is responsible for our digestion and metabolism.
For this reason we should eat our largest meal at noon. The ideal time for lunch is between 12:30 and 1:00, as this is the period of highest Pitta and greatest digestive power. Lunch should be a warm, cooked meal, with all six tastes. Take at least 30 minutes, eat in a relaxed setting, and then sit comfortably for 10 to 15 minutes after you finish.
Dinner
In the evening, digestion is less strong. In a few hours we should be sleeping, which further slows the digestive and metabolic processes. Therefore dinner should be a lighter meal. Heavy foods like cheese, ice cream and meat are best avoided at this meal.
It is better to eat earlier in the evening than later. The later you eat, the less food you should consume and the lighter the food should be.
More and more, modern research confirms that the later you eat, the less effective the body is at digesting. Recent research indicates that people who eat late have a higher risk of obesity, high blood pressure, and type 2 diabetes.
The studies also observed that it may also be important to keep your meal times regular, whatever hour you choose to eat.
This is because eating at unexpected times can shift the timing of the 'clocks' in our digestive tissues, causing them to become desynchronised from clocks elsewhere in our bodies, and making our metabolisms less efficient.
Understanding Your Body Type
It is also helpful to understand both your underlying body "type" and also to your current state of balance and imbalance. For instance, given the fast pace of our modern lives, even those with a predominately Kapha constitution may find themselves with a Vata imbalance. To simply choose foods and activities that reduce Kapha would end up exacerbating that Vata imbalance.
If you do not have an Ayurvedic expert in your area to help you determine your current state of balance, the ideal daily routine, as explained above, applies to everyone, no matter what one's body type. Attuning your physiology with the cycles of nature will always support improved physical and mental functioning.
Resetting our Physiology
If we have been living a life that is out of tune with the cycles of nature, it is never too late to make healthy changes. A consultation with an Ayurvedic expert can pinpoint imbalances that have built up in the physiology, and provide specific recommendations for restoring a healthy balance. The traditional purification treatments of Ayurveda, known as Panchakarma treatments, can remove accumulated imbalances and blockages from deep within the tissues.. These treatments offer a giant step forward as a technology to maintain and create a deep level of health.
Phone or Skype consultations are available with our Ayurvedic Wellness Expert. To schedule a consultation, call, 800-864-8714.