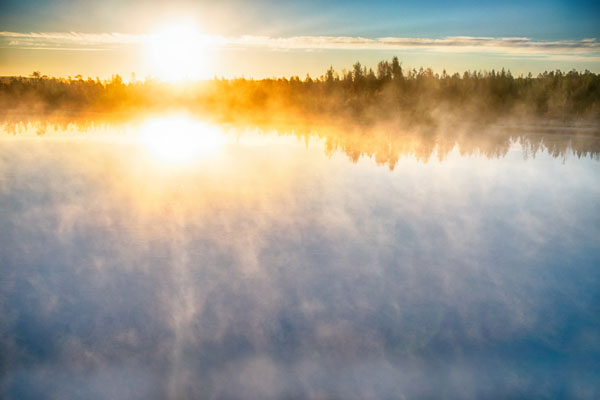 During springtime, when Kapha is becoming lively in our environment, getting up early becomes more important than ever. During Vata season (late fall through early winter) we can get away with sleeping into the Kapha time of the day. Vata has been increasing in our mind/body system and a little Kapha influence can be grounding. But when we move into Kapha season, hitting the snooze button can create imbalances that could open the door to spring allergies and colds. There is reason why early risers are said to be healthy, wealthy and wise. If you haven't made the adjustment already, spring is the time to go to bed earlier and get in the habit waking up by 6:00 or 6:30.
You'll feel more energetic: The principles of Ayurveda recommend getting up an hour before sunrise to synchronize the body cycle with the rhythm of the sun. This time is called Bhrama Muhurta in Ayurveda and is believed to be an auspicious time where significant shifts in energy levels of the body take place. By getting up before the Kapha time of the day exerts its heavy influence (6:00 AM), you'll feel more energetic throughout the day.
You'll have time to meditate and exercise: If you wake up late your morning begins in a rush to get dressed and leave the house. Key activities that can support your quality of thought and activity through out the day, like mediation and exercise, get put aside. Waking up early in the morning gives you time to meditate, practice yoga and get some exercise, all activities proven to create a foundation of well-being.
You'll feel happier: While the energetic feeling after an early morning meditation and workout itself may be enough to keep you happy throughout the day, there is increasing evidence that early risers feel positive and more confident in their work, which results in long-term happiness. A study published in the journal "Emotion" noted that those who had their daily routine in sync with the sunrise and sunset pattern experiences more happiness than late risers.
You'll be more productive: The morning Vata period is one of the most productive times of the day. Your brain has rested well and neuronal connections and pathways have been re-charged during the night. Studies show you can think faster and have more focus during the morning hours. If you follow the rule of 'early to bed, early to rise,' you'll find that much of your important work will get done in the first half of the day.
You'll get better sleep: Obviously, if you wake up early in the morning and begin your daily activities at an early hour, your body will be primed to go to bed earlier at night. According to Ayurveda, it is ideal to go to bed during the Kapha time of the day. This means closing the eyes before 10:00 PM. Evening Pitta time begins at 10:00 PM. The transformative qualities of Pitta should be used to repair the body from the wear and tear of the day's activities. If you stay up late, you'll find that Pitta ends up used for mental stimulation and /or late night snacking. Don't rob your body of this important period of rejuvenation.
Factors That Affect Our Sleep:
Regular routine: One of the most important strategies for getting a good night's sleep is getting in sync with our body's natural sleep-wake cycle, or circadian rhythm. Going to bed and getting up at the same time each day makes us feel much more refreshed than getting the same number of hours but at different times.
Exposure to Light: Melatonin, a naturally occurring hormone controlled by light exposure, helps regulate our sleep-wake cycle. Our brain secretes more melatonin when it's dark—making us sleepy—and less when it's light—making us more alert. This means that spending long days in an office, shielded from natural light, can impact our daytime wakefulness. And lights at night—energy-efficient LED lights and blue light from TV and computer screens—can tell body that it is time to wake up.
Exercise: Research shows that regular exercise leads to better sleep at night and increased alertness during the day. Regular exercise also improves the symptoms of insomnia and sleep apnea and increases the amount of time you spend in the deep, restorative stages of sleep. Even light exercise—such as walking for just 10 minutes a day—helps to improve sleep quality. It is good to note that exercise is not a quick fix. It can take several months of regular activity before you experience the full sleep-promoting effects.
Eating habits: It is especially important to watch what you put in your body in the hours leading up to your bedtime. Caffeine can cause sleep problems up to ten to twelve hours after drinking it. If you drink coffee or tea, try enjoying it only in the morning hours.
Eat a light evening meal: Ayurveda recommends a light evening meal. We want the transforming quality of Pitta in the evening to be used for self-repair and not for digestion. In addition, heavy, fatty foods take a lot of work to digest and may keep us up at night.
If you have long-term problems with insomnia and are unable to switch to an early morning routine, you may be suffering from deep-seated Vata and/or Pitta imbalances. Check with an Ayurveda expert experienced in pulse assessment to find out the specific imbalances that are keeping you from a good routine. They will be able to give you individualized recommendations to culture a more healthful sleep cycle.
Phone or Skype consultations are available with our Ayurvedic Wellness Expert. If you are spending more time at home during this period, let this be an opportunity to create a healthier life-style. To schedule a consultation, call, 800-864-8714.