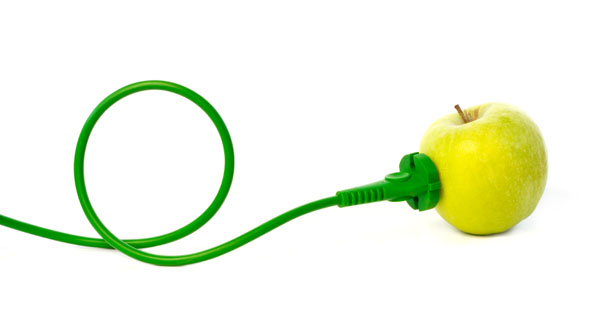 Looking for more energy? Perhaps you should consider the fuel you are using to keep your body running. Or, from an Ayurvedic perspective, ask yourself, are you giving yourself enough prana?
Understanding Prana
Prana is the principle of energy responsible for giving life to and maintaining the body. Prana is the vital energy present in fresh vegetables and fruits, in the pure air that we breathe, and the fresh water that we drink. According to Ayurveda, one of the reasons for eating is to take in prana. Therefore we always want to choose foods that are high in this lively energy.
What does it mean when we ask if a food has prana? We are basically asking, "Is it alive?" Does this food contain vitamins, minerals, enzymes and nutrients that can nourish my body? Or is this food the nutritional equivalent of eating cardboard? The fresher the food, the more nutrients it will provide to nourish your body, and the more enzymes will be available to help break down the food in order to fully absorb those nutrients. Eating the freshest foods possible will give us the biggest energy boost.
Avoid Processed Food
Processed foods that can sit on a shelf for years are an obvious example of "dead food". What prana, or "life force", means should be obvious to anyone who has watched vegetables wilt, lose their color and go bad. Processed food, overly refined flours and sugars, and frozen and canned foods (which are prepared long before the time of consumption) contain less vital qualities to nourish the body. They are also harder to digest. These foods simply can not give us the same level of nutrients as foods brimming with prana, This loss of prana is also why Ayurveda discourages eating leftovers or foods that have been sitting around for too long.
Buy Local
The time between a vegetable being picked and appearing on your plate determines the quality and quantity of prana that you will be receiving from your meal. An intuitive sense of this is one of the numerous forces behind the growth of the "buy local" and "farm to table" movements. Locate the local farmers market near to your home and indentify the sellers there who grow organically. Obviously, many climates prohibit buying fresh, local foods all year round, but during the months when they are available, these foods will provide optimal nourishment and energy.
Go Organic
When looking for foods rich in prana and life energy, you'll want to make sure you consume organic foods. Organic foods have more prana than foods grown with chemical fertilizers and sprayed with pesticides. In addition, taking in these powerful chemicals puts a stress on your physiology and blocks its proper functioning. If your body has to work hard to purify the chemicals every time you eat, you'll feel fatigued. Because many of the chemicals are fat-soluble, the toxins will build up in your system despite your body's attempts to eliminate them. While the traditional purification treatments of Ayurveda (Panchakarma) have been shown to eliminate fat-soluble toxins from the body tissues, it is best to do one's best not accumulate them in the first place.
To Cook or Not to Cook?
Raw food advocates point to prana as one reason to not cook foods. Ayurveda recommends lightly cooking most vegetables in order to make them more easy to digest. Unless you have a very strong digestion, you will actually get fewer nutrients from your vegetables if you eat them raw.
Pure Water
Drink pure, spring water instead of soda, coffee or tea. Water nourishes the body on a cellular level
We ingest all of life through our five senses: touch, taste, sight, sound, and smell. Good health is dependent on our ability to fully metabolize all aspects of life, assimilating what is nourishing and expelling or eliminating that which is not. Through our own poor choices, or through environmental factors that are beyond our control, we can easily metabolize impurities that create imbalances, or ama (toxins)—which can then lead to the formation of chronic disorders.
Ayurveda offers the knowledge of how to live in harmony with nature. Ayurveda also offers healing modalities and regular seasonal routines to help restore balance and vitality when it has become lost.