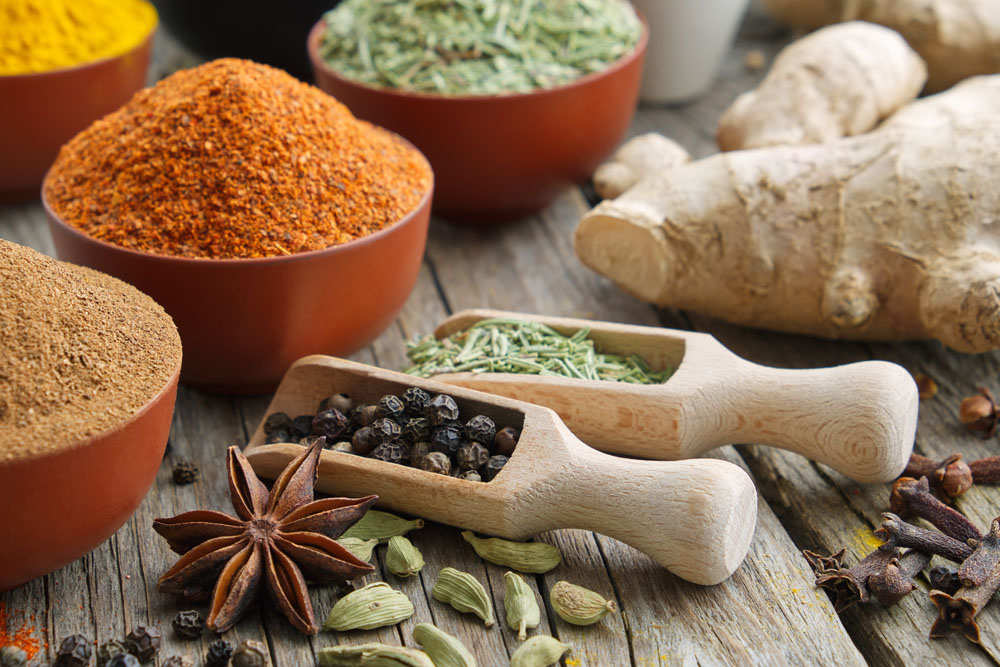 In recent years, modern science has come up with the term "bioenhancer". This refers to"newly" discovered compounds that are supposed to mark a "new chapter in medical science." What is a bioenhancer? By definition, bioenhances are substances that increase the "bioavailability and bioefficacy" of other substances. Peririne, (a compound naturally occurring in black pepper) along with cucumine (found in turmeric), and gingerols (found in ginger) are now being isolated and sold by numerous pharmacutical companies as "bioenhancers".
This "new" science is in fact age-old wisdom that has long been offered by Ayurveda, the 5000 year old health science of India. Spicing is a foundational part of both Ayurvedic cooking and Ayurvedic health recommendations. Not only do spices make our meals taste delicious, they help our bodies stay balanced and healthy. Spices help us better absorb nutrients in our food and have been found to be antioxidants. They help prevent cancer, lower cholesterol and blood sugar, improve memory, flush out toxins, enhance digestion, all the while adding a tasty spark to our daily meal.
During Ayurvedic Wellness Consultations at The Raj, individualized recommendations for spices and spice water are normally given as a part of basic recommendations to help restore balanced health.
Let's take a look at these "new" bioenhancers:
Pepper
Perinine is found in cracked black pepper. Pepper has been found to help carry nutrition across the blood brain barrier. The blood brain barrier is a layer of tightly packed cells that make up the walls of brain capillaries and prevent substances in the blood from entering the brain. This protects the brain from "foreign substances", helps maintain a constant environment for the brain and protects the brain from hormones and neurotransmitters in the rest of the body. Because our brain is made up of almost 60% fat, it needs high quality fats to keep the lining of the brain cells flexible so that memory and other brain messages can easily pass between cells. Getting fat to cross the blood brain barrier can be a challenge. If we are using healthy oils in our diet, adding freshly ground pepper helps us make the most both oils and other nutrients. Pepper helps increase the absorption of oils and nutrients for our body, as well as our brain, supporting cell growth, protecting our organs and helping manufacture hormones in our body.
The perinine in pepper also helps strengthens the functioning of the heart and kidneys. It effective against colon cancer and inflammation and generally enhances immunity. Pepper it is also very stimulating to the digestive system. It does have a natural heating quality and, thus, should be used cautiously by those with a Pitta imbalance.
Turmeric
Cucumin is found in turmeric, the spice that gives curry its yellow color. Ayurveda considers turmeric a medicinal herb as well as a cooking spice. Recent research has identified the medicinal compounds in turmeric as "curcuminoids", the most important of which is curcumin.
Curcumin is said to have powerful anti-oxidizing effects. Because of its chemical structure, curcumin can neutralize free radicals. In addition, it supports and boosts the body's own antioxidant enzymes. Curcumin, however, is poorly absorbed into the bloodstream. To get the most out of turmeric it is recommended that you add freshly ground black pepper to your spice mixture. The piperine in black pepper has been shown to enhance the absorption of curcumin by 2000%.
Curcumin is also anti-inflammatory. Because inflammation and oxidative damage are contributors to many diseases, such as Alzheimer's, Parkinson's, arthritis and various cancers, turmeric is gaining world wide interest in the world of science. It has been noted that the prevalence of Alzheimer's and certain cancers in India is quite low. Turmeric has been shown to have an effect in blocking the growth skin cancer, and inhibiting the spread of breast cancer into the lungs.
Curcumin has recently been shown to strengthen and order cell membranes, making cells more resistant to infection and malignancy. There is new evidence that curcumin can help keep away neurogenerative disease through its ability to cross the blood-brain barrier and act as an antioxidant.
Ginger
Ginger is another spice that Ayurveda recommends for its medicinal properties. The active ingredient in ginger is gingerol, a compound that is thought to relax blood vessels, stimulate blood flow and relieve pain. Traditionally ginger has been used as a remedy for poor circulation, colds, flue, arthritis, heart disease, and poor digestion, as well as nausea and motion sickness. Gingerol is a is also potent anti-inflammatory agent, which means it may be useful in fighting heart disease, cancer, Alzheimer's disease and arthritis. Antimicrobial, anti-inflammatory and anticancer activity have also been reported. Gingerol has been reported to not only reduce pain levels in individuals suffering from osteoarthritis or rheumatoid arthritis, but also to improve mobility.
Ginger is also heating by nature. If you have Pitta imbalances, such as ulcers or heartburn, check with an Ayurveda expert to see how best to use ginger in cooking.
Purchasing Spices
Turmeric, black pepper and ginger are all sold in the supermarkets in ground form. While these products may add  flavor to your food, they are mostly deficient in their health benefits.
Ideally black pepper and ginger should be bought in their whole form and then ground or chopped at the time of cooking. To purchase high quality herbs, visit a local organic grocery or spice shop, or order them from a spice retailer online. Always use organic herbs that have their full range of nutrients and are not irradiated or sprayed with pesticide.