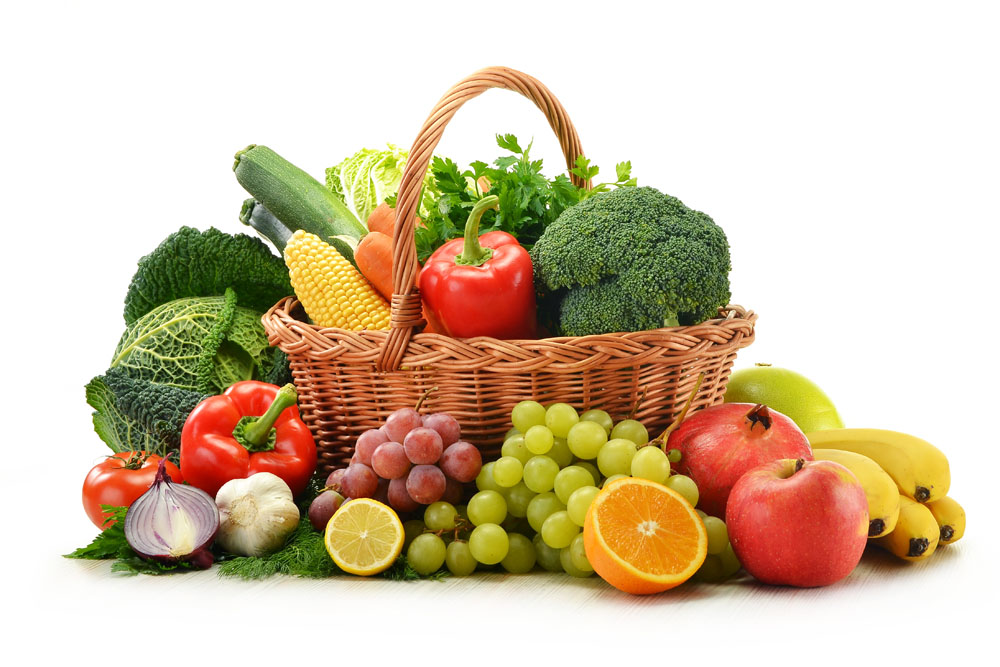 With the fullness of summer comes bustling farmers' markets and overflowing shelves in the fruit and vegetable sections of our grocery stores. It is the time of the year when the availability of local produce is at its peak. Indulge! Studies have shown that eating seven or more servings of fruit and vegetables a day can extend life expectancy a staggering 42%.
To cook vegetables or to eat them raw is the question of the season. According to Ayurveda, this decision is best made with an understanding of your body type, your state of balance or imbalance, and the quality of your digestion.
Ayurveda's main text, the Charak Samhita, recommends primarily cooked foods because cooking increases the element of agni that is essential for the assimilation of nutrients and their transformation into the bodily tissues. The higher proportion of nutrients available in raw food doesn't count if you can't digest, absorb and assimilate them. Let's look first at body types and who can eat what. Then we'll move on to specific foods and how to best make their nutrients available to us.
In order to choose the best option for your physiology, not only do you need to evaluate your individual physiology, it also helps take into account seasonal influences. In the summer, for instance, our body reacts to the high external heat by turning down our metabolism. This means that for many, the ability to digest food is severely diminished.
Raw Food vs Body Type
In general, those with Pitta, or Pitta/Kapha body types who do not have significant Vata imbalances can handle raw foods in their diet, especially in the late spring and summer seasons. This is because the element of "fire" or "agni" is very lively in their constitutions and they benefit from a cooling diet.
The overly cold, dry, light qualities of raw foods, however, may create problems for anyone with a Vata imbalance. They may find an increase in symptoms of abdominal gas, bloating, constipation, worry and anxiety, and dryness. Those wishing to balance or counter Vata imbalances will do better with a diet that is warm, moist and easily digestible.
Those with Kapha imbalances may find that the cold nature of raw foods leads to allergies, sinus problems or asthma.
One solution for those who prefer raw foods but lack a strong Pitta component is to enjoy raw juices. Try juicing or blending with "super blenders". These blenders basically pulverize food, breaking down the cellulose that surrounds the outer layer of fruit and vegetable molecules. For those with more delicate digestion, this will allow you to derive optimum nutritional benefits from your raw vegetables.
Nutrient Availability in Foods 
It turns out that a number vegetables only offer their full nutritional value when they have been cooked.
It is important to note that when we refer to cooking vegetables, we are usually referring to steaming for 4 or 5 minutes or baking in the oven with a slight drizzle of oil. Obviously, mushy, over-cooked vegetables are not going to provide many healthful nutrients. Boiling vegetables can remove many important minerals and nutrients.
Cooking vegetables reduces the mass of the vegetable, concentrating more nutrients with less bulk. Bitter greens like spinach and kale are generally more edible when cooked because cooking also eliminates the oxalic acid, which interferes with calcium absorption.
Cooking significantly improves the digestibility and bioavailability of starchy foods such as potatoes and yams, squashes. This is also true with grains and legumes.
One note about whole grains: the phosphorus in bran is tied up in a substance called phytic acid. According to the book, Nourishing Traditions, phytic acid combines with iron, calcium, magnesium, copper and zinc in the intestinal tract, blocking their absorption. This is why many traditional ways of cooking grains include presoaking or fermenting grains before eating them. These processes neutralize the phytates, essentially predigesting the food so that their nutrients are more available. Phytic acid is also present in nuts, which also should be soaked before eating.
Green beans always need to be cooked until soft—otherwise they are actually toxic. Raw beans are poisonous because they contain prussic acid, which is deactivated only by cooking.
Cooked carrots, spinach, asparagus, cabbage, and peppers supply more antioxidants such as carotenoids and ferulic acid to the body than they do when raw,
Mild heating, such as steaming, appears to improve the extractability of beta-carotene from vegetables, along with increasing betacarotene's bioavailability. Beta-carotene absorption can be as low as 1-2% from raw vegetables such as carrots.
Lycopene in tomatoes is thought to be responsible for reducing the risk of some cancers and heart disease. Studies have shown that the absorption of lycopene is greater from cooked tomatoes. However cooking tomatoes can destroy other vitamins, so it is good to include raw tomatoes in one's diet as well as cooked tomatoes.
Steaming asparagus ignites its cancer-fighting potential.
If you have any questions about which form of vegetables is best for you, check with an Ayurveda expert in your area. Ayurveda pulse assessment will help pinpoint what kinds and forms of vegetables will be most helpful in creating a healthy balance for your mind/body system. Ayurveda recognizes the unique differences of each individual. In order to correctly determine your optimal requirements, it is important to understand your natural balance and current state of imbalance.