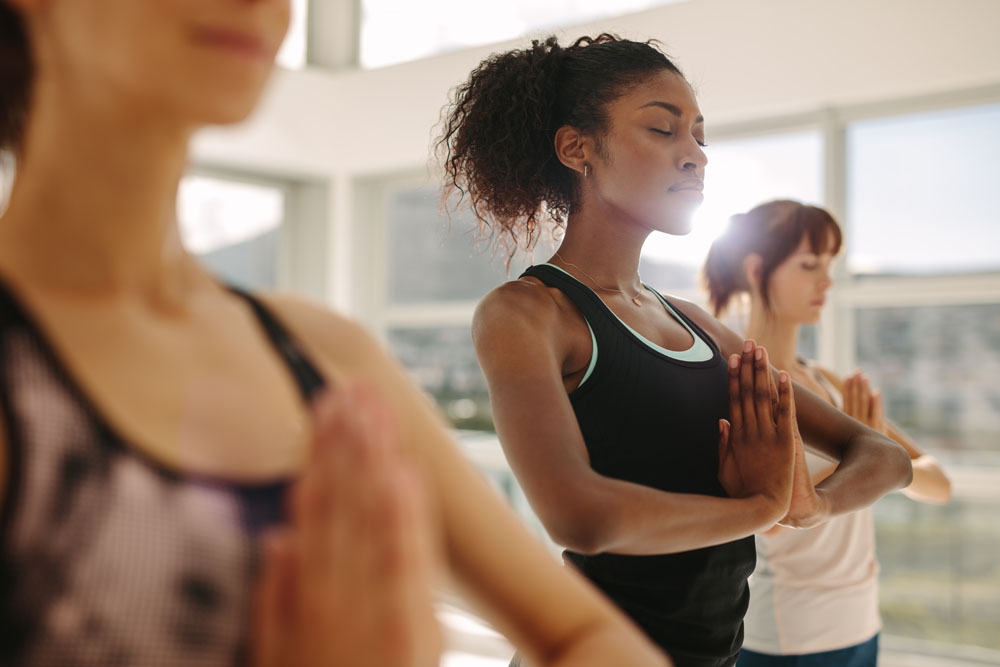 At The Raj ,we offer an integrated approach to health that includes purification treatments (Panchakarma), the Transcendental Meditation program, Yoga, and individualized diet, lifestyle, and herbal recommendations. A breakthrough DNA study sheds new light on why this unique, customized, and holistic approach to health has seen such remarkable results in the lessening and abatement of a wide range of disorders. Meditation, Yoga and other "mind-body interventions" (MBIs) have been shown to actually reverse the damaging effects of stress and anxiety on the level of our DNA.
When our body becomes stressed, our sympathetic nervous system (SNS) goes into survival mode and tells our body to increase the production of a molecule called Nuclear Factor kappa B, or NF-kB. This molecule regulates how our genes are expressed.
NF-kB tells our genes to produce proteins called cytokines, which cause inflammation at a cellular level. This reaction is useful for a short-lived "fight or flight" response, but if triggered continuously, can lead to serious health concerns such as cancer, cardiovascular disease, stroke, diabetes, accelerated aging, and even psychiatric disorders such as depression.
According to the new study, those who practice mind-body interventions exhibit the opposite of the fight or flight response. They show a decrease in the production of NFkB and cytokines. This means a reduction in the pattern of pro-inflammatory gene expression — and thus a reduction in the link of inflammation-related diseases and disorders.
Lead researcher, Iyana Buric, noted, "These (mind-body) activities are leaving what we call a molecular signature in our cells, which reverses the effect that stress or anxiety would have on the body by changing how our genes are expressed. Put simply, the MBIs cause the brain to steer our DNA processes along a path which improves our wellbeing."
The researchers looked at 18 studies featuring a total of 846 participants over 11 years. They were able to chart a distinct pattern in the molecular changes that happened within the participants' physiologies as a result of regular practice of MBIs.
Ayurveda, which literally means "the science of life", has long understood that the mind/body system must be considered as a whole. Ayurveda is a comprehensive system of medicine that places equal emphasis on the body, mind and spirit, and strives to restore the innate harmony of the individual.
Maharishi Mahesh Yogi, the founder of the Transcendental Meditation technique, was instrumental in restoring Ayurveda to its comprehensive and integrated form in a system known as Maharishi Ayurveda. He emphasized the inseparable, very intimate relationship between the unmanifest field of consciousness and all the manifest levels of the physiology. According to this view, the primary approach to health must be from the most basic foundation: the field of consciousness.
The integrated approach to health offered at The Raj offers a unique opportunity to build a foundation of health from the deepest, most fundamental level of the physiology — and gives you the tools to support balanced health on a daily basis.