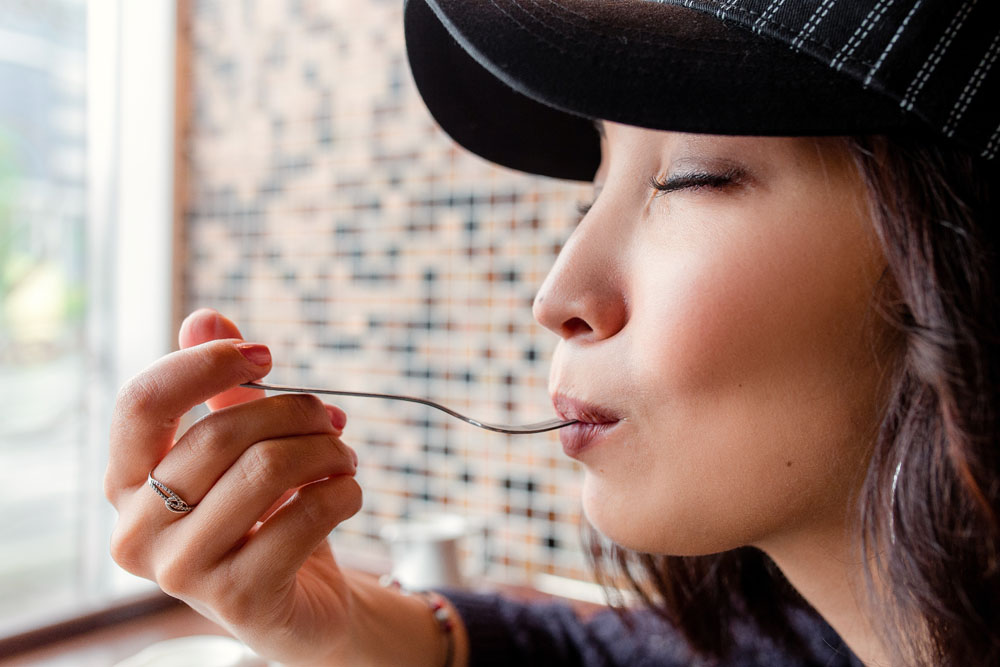 When you sit down to eat, slowly savoring the blends of spices and sauces in your freshly cooked meal, instantaneous messages from your taste buds prepare your stomach for digestion. Tasting and smelling food triggers our salivary glands and digestive "juices". Without them, our stomachs wouldn't be ready for food, and we'd have trouble digesting food and making use of the nutrients we get from food.
How Taste Talks
Ayurveda adds another layer to the role of taste. The ancient science describes a link between taste and balanced health. It posits that taste "speaks" to Vata, Pitta and Kapha doshas, the three governors of your body's functioning. For example, if you eat a hot chili pepper, your eyes water, your body heats up and your mind gets a shot of mental clarity. The spicy taste increases Pitta, which is hot by nature. If you ate some mint chutney, it would cool off the hot Pitta. In this way, various tastes increase or decrease Vata, Pitta and Kapha.
Ayurveda considers food as medicine. The tastes you choose to eat have the power to help bring your body into a healthy balance—or to create imbalance.
Which Tastes Are For You?
Ayurvedic texts divide all foods into six tastes: sweet, salty, sour, bitter, astringent and pungent. Sweet doesn't just mean sugary—it includes breads, milk and cream, and rice. Astringent means dry foods such as beans, broccoli and apples. Bitter tastes include grees such as spinach. Pungent foods are spicy and hot.
How do you know which tastes to eat? The main guideline is to include all six tastes at every meal, to satisfy all three doshas.
Besides making sure that you are eating all six tastes, favor—meaning, add more—of the tastes that balance your particular mind/body type. For instance, if you have more of slow-moving Kapha in your constitution, you will probably feel lighter, more active, and mentally sharper by eating more of the the tastes that decrease Kapha. Thus your diet should include more pungent spices such as ginger, bitter foods such as leafy greens, and astringent foods such as bean soups.
Here is an overview of how tastes influence the doshas:
Vata Balancing: sweet, sour, salty
Vata Aggravating: bitter, astringent, pungent
Pitta Balancing: sweet, astringent, bitter
Pitta Aggravating: sour, pungent, salty
Kapha Balancing: bitter, pungent, astringent
Kapha Aggravating: sweet, sour, salty
If your mind/body type is more Vata, favor sweet, sour and salty foods. And if you have a lot of fiery Pitta, eat more sweet, bitter and astringent tastes and avoid large quantities of pungent, sour and salty foods.
It is helpful to also pay attention to the time of year and which dosha is dominant in your environment. During the cold, dry, windy weather of fall and early winter, Vata dosha is naturally enlivened. At this time, start to reduce the amount of foods that increase Vata and begin to favor those spicy Pitta foods that you were avoiding all summer. Kapha increasing foods can also be enjoyed at this time.
But as the late winter and early spring become increasingly wet, Kapha dosha begins to dominate and it is better to shy away from Kapha foods and add in more foods that increase Pitta. Continue to balance Vata, which may have built up over the fall and early winter season.
During the hot days summer is it best to minimize heating foods.
One easy way to make sure you are eating the right combination of tastes is to use Vata, Pitta and Kapha herbal seasonings, or churnas, which contain traditional spicy mixtures that target specific doshas.
Above all, Ayurveda says to enjoy your food. Whatever you are eating, relax, take your time, and enjoy. Savor the taste. You will digest your meal more effectively and your body's important messengers can do their job.