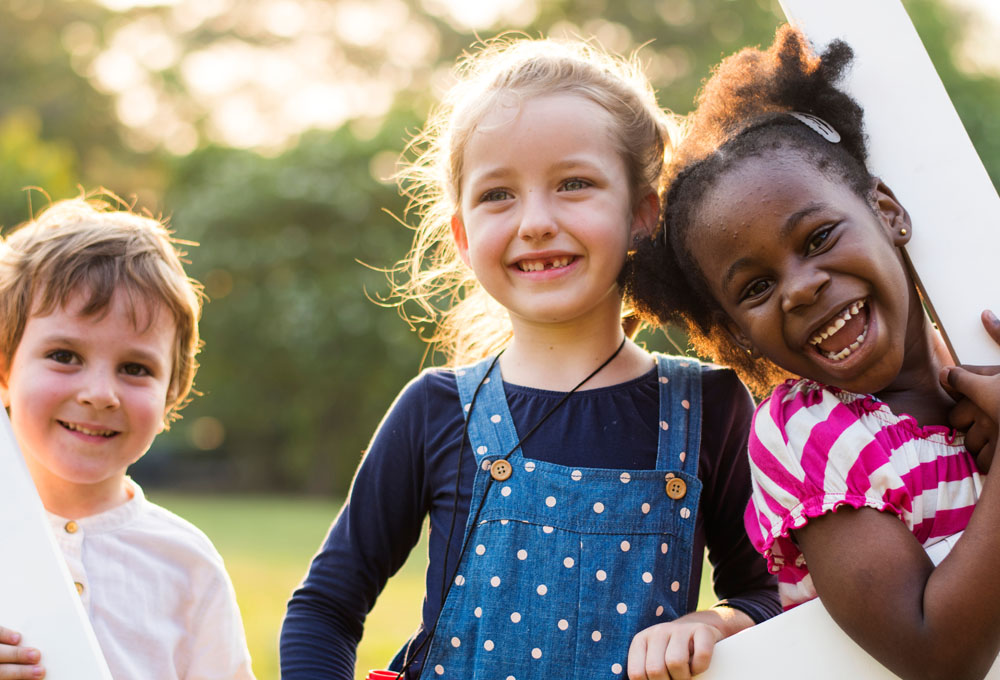 From an Ayurvedic perspective, kids are inherently healthy. Why, then, do we think that colds, fevers, allergies, earaches and sore throats are a natural part of childhood?
The traditional medical view is that kids get sick with colds, flu and other common illness because their immune system is untested and they have not previously been exposed to viruses. When they do come in contact with viruses and upper respiratory infections, they easily succumb. Later in life, having developed a resistance to these diseases, they do not get sick as often.
Ayurveda takes the view that children tend to stay healthy if they eat the right foods, get proper rest and have a good routine. This helps the child maintain his or her own resistance and immunity. We know that some children are exposed to such things as upper respiratory viruses and do not get sick at all, where as other children seem to get sick all the time. To some extent this is due to the child's body type and inherent resistance, but proper rest, diet, and routine will maximize the possibility of remaining in good health.
UNDERSTANDING KAPHA
According to Ayurveda, each of the three doshas—Vata, Pitta, and Kapha—are responsible for the expression of various aspects of nature in the body. Vata is responsible for movement, quickness and change. Pitta is related to heat processes and energy production. In the body, Vata directs circulation and nervous system functioning. Pitta governs digestion and metabolism.
Kapha is more structural and is responsible for heaviness and solidity. And Kapha is responsible for maintaining the structural aspects of the body—muscles, joints, tissues, etc., as well as lubrication.
During the growing years, as the physical structure of the body is forming, Kapha dosha is more predominant than the other doshas. Kapha is slow, heavy, sticky, firm and strong. And its proper functioning is essential for the ever-strengthening physiology to grow. If Kapha becomes imbalanced, it can—because of its heavy and sticky qualities—slow digestion and produce excess mucus in the body. This will lead to colds, ear infections, etc.
DIET
What is a proper diet for your child? The recommendations from Ayurveda take into account the Kapha-dominated period of early childhood.
Excess of sweets and cold drinks and foods are more difficult for the slower digestion of early childhood to handle. It is better to avoid offering these kinds of foods to children. Unfortunately, many of these foods—especially candy, chocolates, pastries, ice cream, cold drinks, cheese, potato chips and highly processed foods—tend to be easily accessible and are often what children ask for. This is one reason that holiday times—between halloween and New Year's Day—are times when it is common to see an increase in colds and sickness in children.
Ayurveda recommends a vegetarian diet as the ideal diet for a young child. It should include lots of fresh fruits and vegetables and can provide plenty of protein through a combination of grains, legumes, dairy and nuts.
Ayurveda recommends milk for most children. Boiling milk makes milk easier to digest, and it is best to drink it warm. Avoid serving milk with food containing tastes other than sweet, as milk mixed with salty, sour, astringent, bitter and pungent tastes causes problems with digestion. Milk is best taken with grains (cereal) or by itself.
Children should eat their main meal at noon, when digestion is stronger. Try to avoid serving heavy foods such as cheeses, yogurt or meat in the evening.
REST
The second essential in keeping kids healthy is making sure they get enough rest. According to Ayurveda, the great the rest (in both children and adults) the stronger the immune system.
When children are tired from staying up too late they become more susceptible to colds and other respiratory illnesses. For greater strength and balance physiological functioning, children should go to bed earlier in the evening than is generally practiced. Children under five should go to bed between 7:00 p.m. and 7:30 p.m. Children between the ages of eight and ten should go to bed by 8:30 p.m.
EXERCISE
Ideally, children should get enough exercise through their daily play. Try to avoid having them sit for hours in front of the television or playing on electronic devices. Kapha requires exercise to keep balance and healthy. Otherwise, dullness and lethargy can develop.
PARENT"S ROUTINE
If your child has repeated health problems, a parent should ask, "Do I have a proper routine?" Children are very sensitive and impressionable. If a parent is stressed, fatigued, has a poor diet, or does not have a good routine himself, the child can easily pick up these habits.
In fact, the diet and routine that Ayurveda recommends for adults is very similar to that for children: early to bed, early to rise, eat fresh, well-cooked foods, get proper exercise, and meditate regularly to relieve stress and promote well-being and happiness.
The close relationship between parents and children is reflected in the health of the entire family. As a parent it is important not only to give care and guidance to your children but to take care of yourself as well.