Massage Oils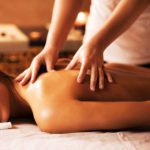 All of the products used in our treatments are 100% organic and free of harmful chemicals. Because the massage oil is the medium through which healing herbs are absorbed into the body and through which toxins are expelled, it is important that only the highest quality oils are used. The Raj offers 100% organic massage oil for all treatments.
In addition, used oil is collected after your treatments so that it can be used as bio-fuel by the Sustainable Living Center at near-by Maharishi University of Management.
Organic Food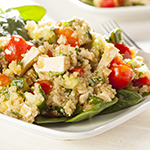 The Raj serves only organic vegetarian food, sourced locally as often as possible. Local sourcing not only saves greenhouse emissions but also lowers transportation costs and provides jobs for the local community. The Raj Restaurant serves organic, vegetarian meals for our in-residence package guests. At meals guests have the option of joining other guests or eating at a private table. This tradition of family-style meals makes The Raj enjoyable for those traveling alone—many guests remark on the friendships that are established during their stay. The vegetarian diet is organic, low fat and specifically designed to support the treatment program.